Features
In a continued commitment to improving the productivity of positioning professionals, Topcon enhances the HiPer family of products by adding Vanguard Technology to the HiPer V.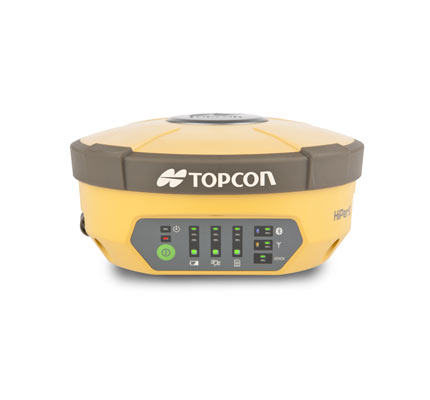 Features & Benefits:
Vanguard Technology
226 Universal Channel flexibility
Rugged Magnesium Alloy Construction
Integrated RTK & Static Receiver
Fence Antenna signal tracking
Topcon raises the standard once again by adding Vanguard Technology's 226 channels and fence antenna into a versatile, configurable receiver, HiPer V.  The additional channels and precision antenna element make RTK positioning faster and more productive than any other receiver on the market.
Vanguard Technology
Advanced GNSS chip design and superior support technology such as Quartz Lock Loop and Universal Tracking technology.  Vanguard Technology receivers are the most productive receiver on the market..
Internal GSM, HSPA, or CDMA Modem for Network RTK and Magnet Relay
Designed as a perfect network RTK rover, the HiPer V gives you the option of an internal GSM, HSPA, or CDMA cellular modem. With its completely integrated design, the HiPer V eliminates the hassles of external modems and cables, all in a lightweight, rugged design.
MAGNET Relay Ready
Use Magent Relay with a HiPer V to create a cell-to-cell base/rover combination.  No FCC radio license required and single baselines up to 35km.  The HiPerV uses the internal cellular modem to connect to Magnet Relay and is then available to any other Topcon rover running with Magnet Field.  It is like creating a mobile network base.  Magnet Relay handles all the internet connection and NTRIP broadcast settings automatically and with ease.
Voice Messages for Receiver Status
Multi-lingual, clear-tone voice messages notify the users of critical receiver information and status such as satellite signal interruption, radio interference, low battery, low memory and more. This feature improves your efficiency by providing information without having to look at the LED display or controller screen.
Long-Life Li-ion Battery
Topcon's HiPer V comes standard with a modern design long-life Lithium Ion battery that is located safely behind a sealed battery cover.
Data Storage with SD or SDHC Cards
A large volume of static observation data from long term survey projects, long sessions and displacement monitoring can be stored onto the popular SD cards or SDHC cards with 4GB or larger capacity.
Specifications
SPECIFICATIONS
GNSS
 
Number of channels
226 Tracking Channels
Universal Tracking Technology capable of tracking up to 112 satellites
Signal Tracked
GPS Signals of L1 CA, L1/L2 P-code, L2C.
GLONASS Signals of L1/L2 CA, L1/L2 P-code.
Satellite-Based Augmentation Systems of WAAS, EGNOS, QZSS, and MSAS
Antenna Type
Integrated, micro centered Fence Antenna™ with Ground Plane (1)
POSITIONING ACCURACY
 
RTK
H: 10 mm + 1 ppm
 
V: 15 mm + 1 ppm
Static
H: 3mm + 0.1 ppm (1)
 
V: 3.5 mm + 0.4 ppm (1)
Differential GPS (DGPS)
Less than 0.5m (1.6 foot)
USER INTERFACE
 
Operation
Single-button operation for power, receiver reset, memory initialization
Display Panel
22 LED status indicators
DATA MANAGEMENT
 
Memory

SD/SDHC (up to 32GB)

Data Format
RTCM SC104 2.1/2.2/2.3/3.0/3.1, CMR, CMR+, NMEA, TPS
Update/Output Rate
1Hz, 5Hz, 10Hz, 20Hz options
Communications Port
RS-232C (4,800 to 115,200bps)
WIRELESS COMMUNICATION
 
Bluetooth® Modem
V2.1 + Enhanced Data Rate (EDR), Class 1, 115,200bps
UHF Radio
Internal, receiver (RX) and transmitter (TX). Supports 410 to 470MHz radio frequency range.
Spread Spectrum Radio
Internal, receiver (RX) and transmitter (TX), 915MHz
GSM, HSPA, CDMA Modem Choice
Internal
ENVIRONMENTAL
 
Dust and Water Protection
IP67 (IEC 60529:2001) at closing all connector caps.
Protected against temporary immersion up to 1m (3.3ft.) depth.
Shock Rating
2m (6.56ft.) pole drop
Vibration
MIL-STD-202G Method 214A; SAEJ1211, section 4.7
Operating Temperature
HiPer V GNSS Receiver (with battery) = -40 to +149°F (-40 to +65°C)
BDC58 Battery = -4 to +149°F (-20 to +65°C)
Radio/GSM modems = -4 to +131°F (-20 to +55°C)
Storage Temperature
-49 to +158°F (-45 to +70°C)
Humidity
100%, condensing
PHYSICAL
 
Enclosure
Magnesium alloy housing
Size
7.24" Diameter x 3.74" Height (184mm Diameter x 95mm Height)
Weight
HiPer V GNSS Receiver - 2.20 lb. (1.00kg)
BDC70 Battery = 6.9 oz. (195g)
POWER SUPPLY
 
Standard Battery
BDC70 Detachable and Rechargeable Lithium-ion Battery, 7.2V, 4.3Ah
Operating Time
>7.5 hours in static mode w/Bluetooth® connection
Charger CDC68
Recharging time approximately 4 hours at 77°F (25°C)
Input voltage 100 to 240V AC (50/60Hz)
External Power Input Voltage
6.7 to 18V DC
 
 
Under nominal observing conditions and strict processing methods, including use of dual frequency GPS, precise ephemerides, calm ionospheric conditions, approved antenna calibration, unobstructed visibility above 10 degrees and an observation duration of at least 3 hours (dependent on baseline length).
 ## Content is subject to change without prior notice ##
Brochure

hiper_v_broch_7010_2121_revd_sm.pdf
Tab
SaveSave
Save
Save
Save
Save